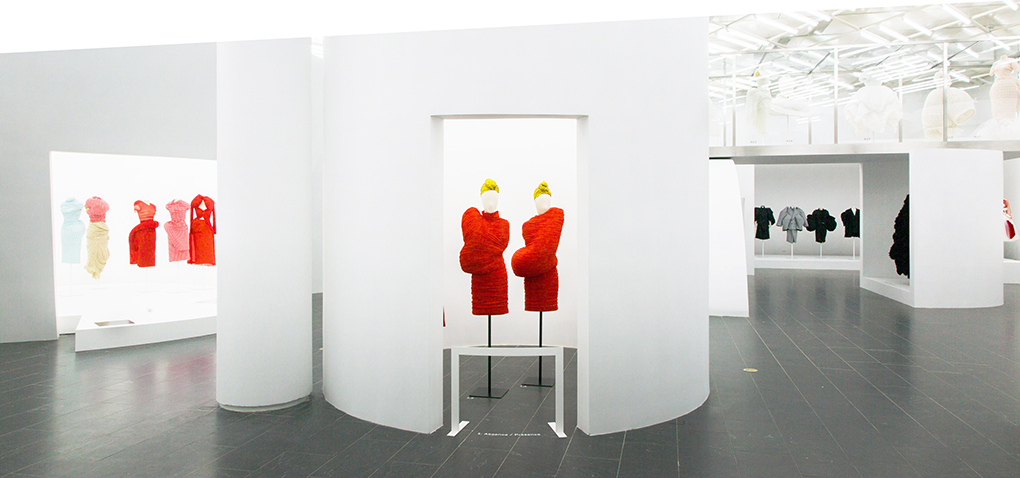 The Costume Insitute's spring 2017 exhibition on Rei Kawakubo / Comme des Garçons Art of the In-Between highlights the hybridity and interstitiality in fashion and thereby illuminates the approach and potential in the realm of art in general. Get excited about this inspiring trip to a world of creation, recreation and reinvention.

The Art of the In-Between is beautiful reminder of topics and imageries that have been ghosting around in our heads for a while. Featuring the womenswear designs of Rei Kawakubo for Comme des Garçons, it illuminates the issue of the "in-between space" and the fascination with hybridity and interstitiality in fashion and the world of design per se.
The fusion of materials, styles and traditions makes fashion a "site of constant creation and recreation", asserts Andrew Bolton, Curator in Charge of The Costume Institute, which eventually is breaking down long established conventions. The exhibition sports designs that combine Western textiles and prints with Eastern dressing styles as well as dresses tailored the way to deform silhouettes raising questions about the traditional view on female body and its identity.
Overall, what makes Rei Kawakubo's works so compelling is that they do not only rethink traditional clothing, but styles and values in general. The Japanese designer challenges common notions of beauty, good taste and fashionability not only in fashion it seems, but in all sorts of realms, uncovering the fact that the aesthetics of our time is defined by artificiality, arbitrariness and a fusion of the many.
Inviting us to challenge a dominant dualism, the Japanese designer has organised its works in nine different collections calling them "Absence/ Presence, Design / Not Design, Fashion / Anti-Fashion, Model / Multiple, High / Low, Then / Now, Self / Other, Object /Subject, and Clothes / Not Clothes – for the sole purpose to deconstruct them with her visuals at display.
So, as packaging enthusiasts and philosophers taking part in this spiritual voyage, we keep wondering: Should we explore the design of packaging from the same angle? Should we challenge its established image and use?
Certainly, these are rhetorical questions that we should answer anyway with: We should, definitely! What it means for you as a designer? You will figure it out!
Let's add this: Ideas and designs need to flourish and grow outside the cocoon of convention to develop something outstanding.
At The Met Fifth Avenue
May 4–September 4, 2017