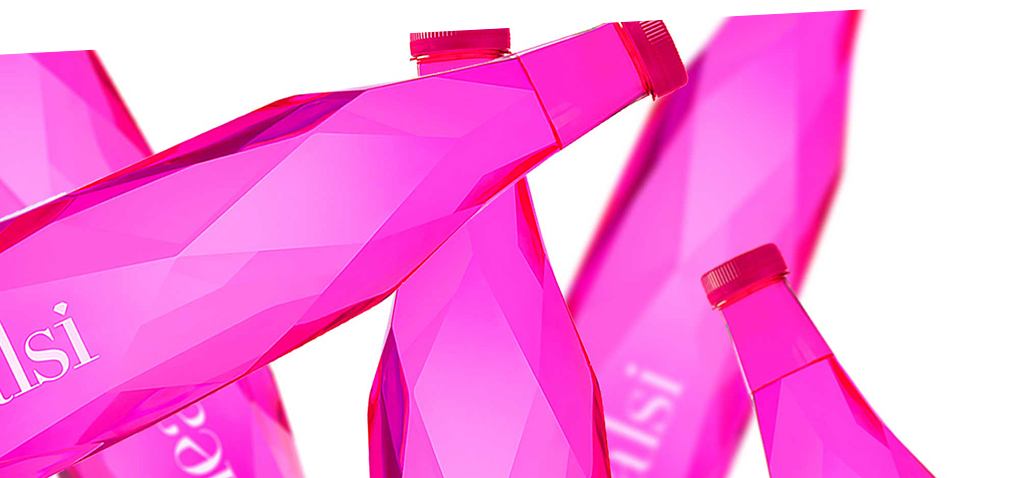 Nothing tells us more about a product than its material. With a closer look, it can tell us a whole story. Healsi Water stands for the story of a premium water. Its packaging resembles a precious jewel. Its edges allow a playful interaction with light and shadow. Its transluscent plastic is see-through and obscure at the same time as it breaks the reality into a mosaic-like image.
Healsi truly comes with aspirations. The premium water sourced in Portugal combines the purest ingredients. It all began in the untouchable and pristine Portuguese landscape, with the vision of a family of doctors. Their awareness of how important water is for human health and wellbeing led them to pursue a unique water that could go far beyond hydration.

After much research and 10 years later, they found what they were looking for: The source of eternity, which gave birth to Healsi and thus a precious product.
The latter is literally mirrored by its shiny packaging. The PET refracts the light and instantly draws attention to the bottle.
We love it!

# PACKAGING DETAILS



PACKAGING: Premium water in a lightweight 1L or 0,5L PET bottle with a character look as it is shaped like a diamond

SPECIALTIES & FINISHING: No label look, thanks to its transparent sticker + a paper tag which hangs aorund the bottle neck 

LAYOUT: Simple look, with logo (upright) in focus